Aug 2nd
SHAWN MENDES HEADLINES 'THE TOUR' AT SOLD-OUT STATE FARM ARENA
Multi-Platinum and Chart-Topping Singer/Songwriter Performed in Front of Mesmerized Atlanta Audience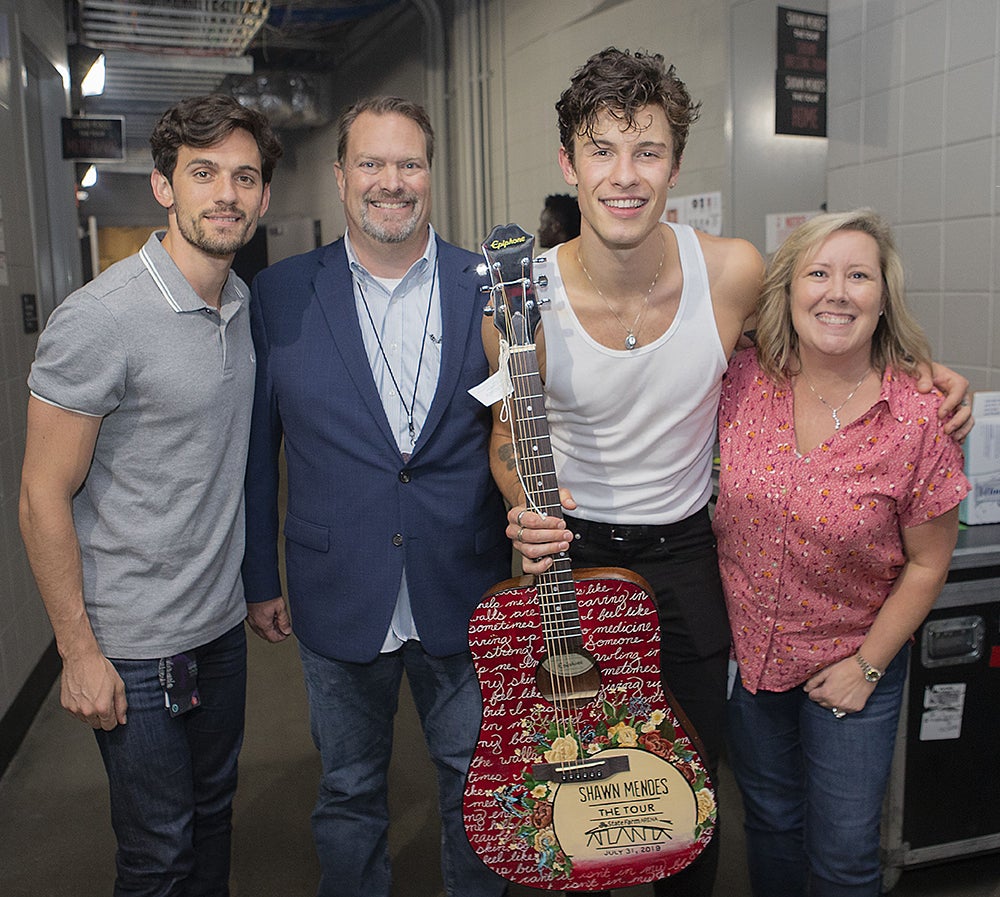 Executive Vice President of Arena Programming Trey Feazell and the Director of Arena Programming Rita Cobb presented multi-platinum singer/songwriter Shawn Mendes with a custom guitar after his sold-out show on Wednesday, July 31 at State Farm Arena in Atlanta. From left to right: Messina Touring Group's Louis Messina Jr., Feazell, Mendes and Cobb. Photo Credit: Terence Rushin
ATLANTA - Multi-platinum singer/songwriter Shawn Mendes brought his best to the sold-out show at the award-winning State Farm Arena on Wednesday, July 31. Mendes opened his show performing Lost in Japan from his self-titled third studio album, "Shawn Mendes: The Album." His set also included other chart-topping tracks such as In My Blood, Señorita and There's Nothing Holdin' Me Back in front of the boisterous Atlanta audience that totaled 12,272.
After his performance, Atlanta Hawks' Executive Vice President of Arena Programming Trey Feazell and the Director of Arena Programming Rita Cobb presented Mendes with a custom 'LisforLucky' guitar. This guitar, designed by Lauren Conklin, features lyrics from his song In My Blood and has flowers around the body to match the aesthetic from Mendes' album and tour. The body also has images that mirror his tattoos in addition to pieces of his merchandise and prominently displays the venue's iconic 'ATLANTA' letters and lists the tour date.
Grammy® Award-winning pop star Alessia Cara was the opening act on this tour date. The Canadian singer, songwriter and instrumentalist performed some of her most well-known songs such as Scars to Your Beautiful, Here, and Wild Things.
Click here to download photos from Shawn Mendes' stop at State Farm Arena. For all photos, please credit: Terence Rushin.