Jun 17th
STATE FARM ARENA RECEIVES LEED GOLD CERTIFICATION
Home of the NBA's Atlanta Hawks Receives Recognition for Creating Healthy and Highly Efficient Green Building.
ATLANTA – The United States Green Building Council recently announced that State Farm Arena, home of the NBA's Atlanta Hawks Basketball Club, has received LEED Gold certification. The Council's President Mahesh Ramanujam presented Hawks' and Arena CEO Steve Koonin with the designation plaque during the Greenbuild Atlanta Cultivation Event. The LEED, or Leadership in Energy and Environmental Design, is one of the most widely recognized green certification programs specializing in building design, construction, operations and maintenance.
"It is an honor to accept this certification on behalf of State Farm Arena and all of the amazing partners who helped us achieve this great honor," said Atlanta Hawks and State Farm Arena CEO Steve Koonin. "As we looked at re-imagining the all-new State Farm Arena into a world-class venue, creating a responsible, sustainable building for our employees, fans and community was of the utmost importance in that vision."
According to the US Green Buildings Council, buildings can earn four levels of LEED certification: Certified (40–49 points), Silver (50–59 points), Gold (60–79 points), and Platinum (80+ points). State Farm Arena received the Gold designation, which is the second-highest of four classifications of green buildings.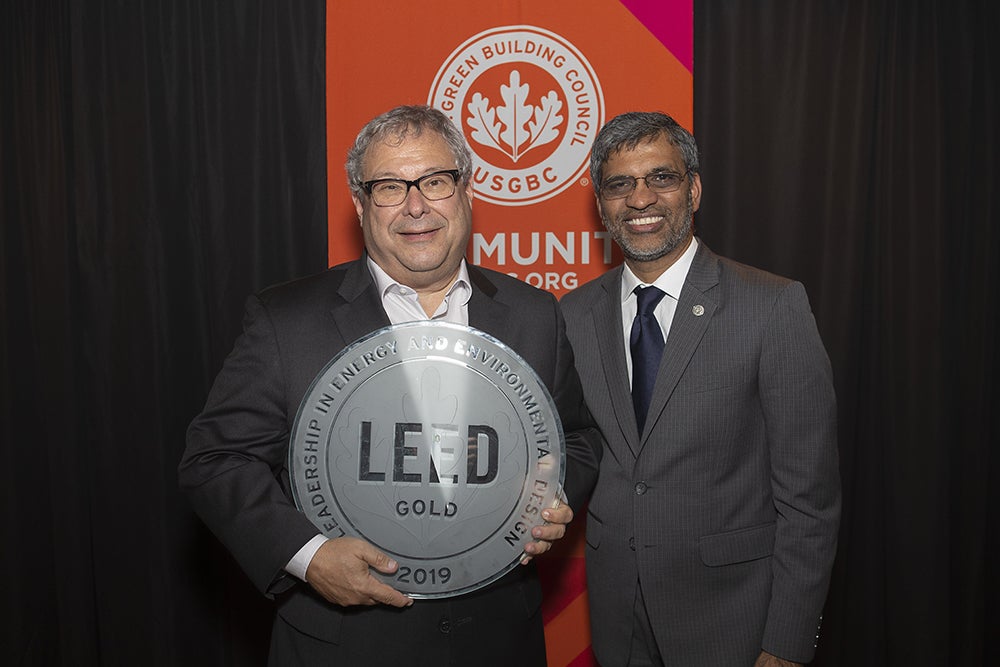 The US Green Building Council President Mahesh Ramanujam (right) presents Atlanta Hawks and State Farm Arena CEO Steve Koonin (left) with a plaque to honor State Farm Arena's Gold LEED Certification on Thursday, June 13 at State Farm Arena in Atlanta. Photo Credit: Terence Rushin
Several highlights that led to State Farm Arena's LEED Gold certification include:
A partnership with Rubicon Global that led to the recycling of 12,500 seats in 2018.
The arena and surrounding area becoming an entirely smoke-free campus.
New lighting fixtures that were upgraded to LED fixtures, resulting in a 41-percent lighting power reduction.
Many existing plumbing fixtures were replaced with more efficient fixtures, resulting in savings of over 540,000 gallons of potable water annually with the new fixtures.
The adoption of green housekeeping practices to protect the health of the arena's staff and fans.
Over 900 tons of waste was diverted from the landfill, including multiple items that were salvaged from the existing facility and sent to Atlanta's Lifecycle Building Center to be resold.