Jul 18th
STATE FARM ARENA SPOTLIGHTED BY ALSD
STATE FARM ARENA SPOTLIGHTED BY ALSD FOR BEST PREMIUM OFFERINGS AT 29TH ANNUAL ALSD CONFERENCE
First-of-its-Kind Spaces such as Courtside Club, Hawk Bar and Atlanta Social Lead to Best-in-Class Recognition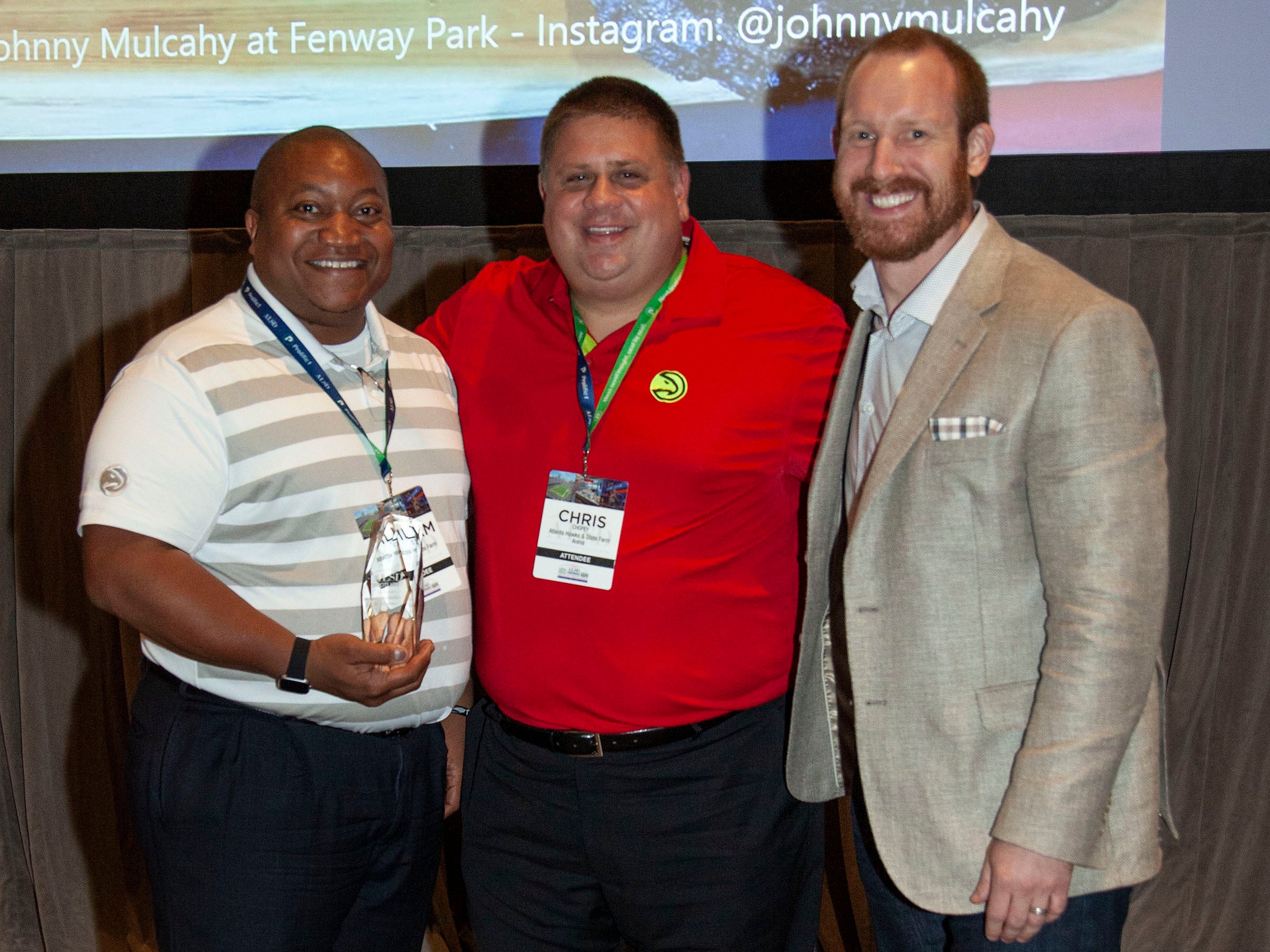 Hawks and State Farm Arena's Director of Premium and Suite Services Will Stephens (left) and Vice President of Premium Sales Chris Chopey (middle) are presented the "Club Spaces" award by Association of Luxury Suite Directors' EVP and Publisher Jared Frank (right) at the 29th Annual ALSD Conference & Tradeshow in Chicago.
ATLANTA - The Association of Luxury Suite Directors (ALSD) recently recognized the Atlanta Hawks and State Farm Arena for its unique premium offerings during the 29th Annual ALSD Conference and Tradeshow at the Marriott Marquis in Chicago. State Farm Arena received the award for having the Best Premium Club Spaces, Benefits and Activations. The award is received by "the organization and venue for creating unique premium clubs within a venue meant for larger groups with an appetite for a posh entertainment experience. These spaces often include bars, restaurants, communal seating, meeting space, and frequently a special view of the play or performance area in a venue."
The Association of Luxury Suite Directors provides a single platform for timely information across all layers of the premium seat industry in stadiums and arenas throughout North America and all professional sports.
"It is an honor to receive this award from ALSD on behalf of State Farm Arena as well as our partners at HOK," said Atlanta Hawks and State Farm Arena Chief Operating Officer Thad Sheely. "In re-imagining State Farm Arena, we had a goal to provide a great night out for fans and a special focus was made to differentiate the types of premium products at every level. We've completely upgraded the social experience and the connectedness for our fans."
Several highlights that led to State Farm Arena's recognition include:
Concert Club – A new ultra-premium area designed in equal parts with the premium event fan and the music lover in mind.
Courtside Club and Hawk Bar – Providing all courtside ticket holders the most unique dining and bar experience in the NBA.
Veranda Suites – Offering the largest private and luxurious suite experience inside the building.
Loft Suites – Featuring a special dining area shared by guests and providing a perfect blend of private and communal space.
Players Club – Offering members exclusive views into the player tunnel with access to the press conference room.
Harrah's Cherokee Casinos Club – Offering a chef-driven, all-inclusive club that serves a food and beverage menu.
Atlanta Social – Featuring three different seating options including terrace tables, lounge suites and luxury couches.
Click here to download a photo from the award presentation. For all photos, please credit: Association of Luxury Suite Directors.
For a list of upcoming events at State Farm Arena, visit www.statefarmarena.com/events.
Those interested in learning more about premium space ticket should visit www.hawks.com/premium.