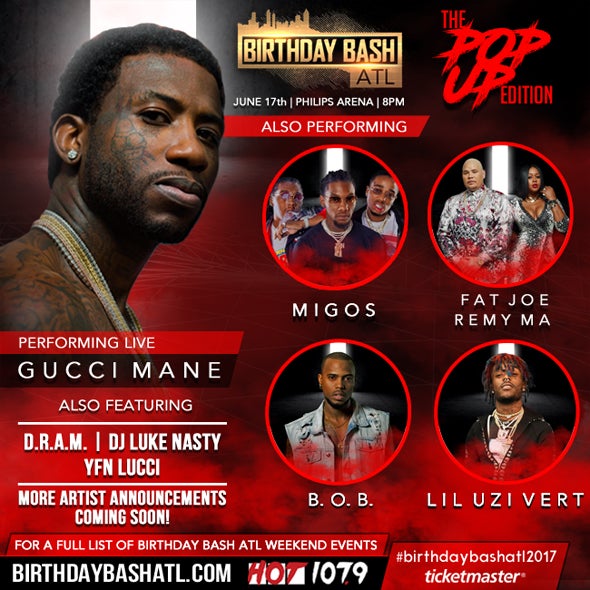 ATLANTA -- Hot 107.9's Birthday Bash ATL "The Pop-Up Edition" presented by Heineken announced Gucci Mane to be the headliner along with Migos, Fat Joe & Remy Ma, YFN Lucci, B.O.B., DJ Luke Nasty, D.R.A.M and Lil Uzi Vert to perform at this year's show, Saturday June 17th at Philips Arena.
"The Pop-Up Edition" will not only feature the announced artists but a host of surprise artists who will literally "pop up" during the show, making this one event that will be very memorable. Previous years' performers have included Chris Brown, Jay Z, Kanye West, Jeezy, Ludacris, Usher and many more! This year's show will undoubtedly top previous years.
VP of Programming and Operations Hurricane Dave, said "Every year the headliner for Birthday Bash is one of the hottest artist currently in music. This year is no exception, as Gucci Mane just came off a number one record in the country with Drake. His current single is approaching number one status. There are several artists that will pop up on that Birthday Bash stage that we just can't announce due to contractual agreements. This year's Birthday Bash will live up to its title the 'pop up' edition".
Tickets are on sale now by clicking the link above. For up to date information, visit www.birthdaybashatl.com or follow us on twitter and Instagram @hot1079atl, #BirthdayBashAtl2017 and of course tune into WHTA Hot 107.9-FM.
EVENT DETAILS:
Saturday, June 17, 2017: 12 noon – 5:00pm
Birthday Bash ATL "Free Block Party" Downtown
Centennial Olympic Park with live performances and vendors
12 noon – 5 pm.
265 Park Avenue West Northwest Atlanta, GA 30313
Free to attend
Saturday, June 17, 2017: 7:00pm – 11:00 pm
Birthday Bash ATL "The Pop Up Edition" Concert
Philips Arena
1 Philips Drive, Atlanta, GA 30303