MAMAMOO
MY CON WORLD TOUR
Date

May

20

, 2023

Event Starts

7:30 PM

Doors Open

6:00 PM

On Sale

On Sale Now
Event Details
MAMAMOO Announces Venues For First-Ever U.S. Tour Dates, Which Includes a Stop in Atlanta at
State Farm Arena on Saturday, May 20
The sassy progressive K-pop group will make their way to nine cities for
their first-ever stateside tour starting on May 16
INTERNET PRESALE begins Tuesday, March 28 at 10am local and ends Tuesday, March 28 at 10pm local. Fans can get early access to tickets via Ticketmaster.com with passcode MOOMOO
Tickets are on sale to the general public at 10am local time on Thursday, March 30 at Ticketmaster.com
Los Angeles, CA - March 23, 2023 - Fresh off last week's exciting announcement, MAMAMOO announces the venues they will be playing at as part of their "MY CON" World Tour as they head to the U.S for the first time. After wrapping up their latest performances across Asia, the popular K-Pop group will embark to the U.S. for their inaugural arena tour that launches in New York City on May 16, 2023; hitting a total of nine cities coast to coast with many major markets in between including Atlanta at the award-winning State Farm Arena on Saturday, May 20. Presented by Mammoth, Inc. and Sugar Monkey Live, this is MAMAMOO's first ever global tour, as well as their American debut.
The girls knocked it out of the park with their mini album "MIC ON" in October 2022, and promptly followed up with a hugely successful, nine city tour across Japan, Hong Kong, Taiwan, Bangkok, Jakarta, Singapore, Kuala Lumpur, and Manila. MAMAMOO has established themselves as unrivaled icons of K-Pop, having sold out more than twenty concerts since their first one in 2016. MAMAMOO is set to rock some of the biggest cities in the U.S. this summer with the same excitement and passion that has endeared them to their global fandom with each performance since their debut.
"Wherever it is, it becomes yours, mine and our stage."
- MAMAMOO
The tour will see all four members, Solar, Moon Byul, Whee In, and Hwa Sa, join hands once again, ready to take the stage in premier venues across the country.
MAMAMOO's first song, "Mr. Ambiguous," debuted in 2014 and cemented their position as a mainstream K-pop knockout. Their launch was considered by some critics as one of the best K-pop debuts of 2014. They are recognized for their retro, jazz, R&B concepts and their strong vocal performances. Their song "HIP" is their first music video to hit 370 million views on YouTube and 210 million streams on Spotify, since their release in 2019. The quartet is known for being daring and breaking the rules in K-pop with their progressive fashion style, challenging the Korean music norms for women, and their girl boss attitude. MAMAMOO promotes being an independent woman with no restrictions. Hwa Sa is the most successful soloist, with her hit song "Maria" (2020) breaking records with more than 270 million views on YouTube. The recently released single, "ILLELLA," encapsulates the unique talent and versatility of all four members.
Early Shopping:

Located outside of Gate 7 on Andrew Young Int'l Blvd
Open to the public from 1-6 PM on Saturday
We recommend parking in Sapphire Deck

In-Arena Locations:

Gates 1, 5 & 6 - open during the concert to ticketed fans only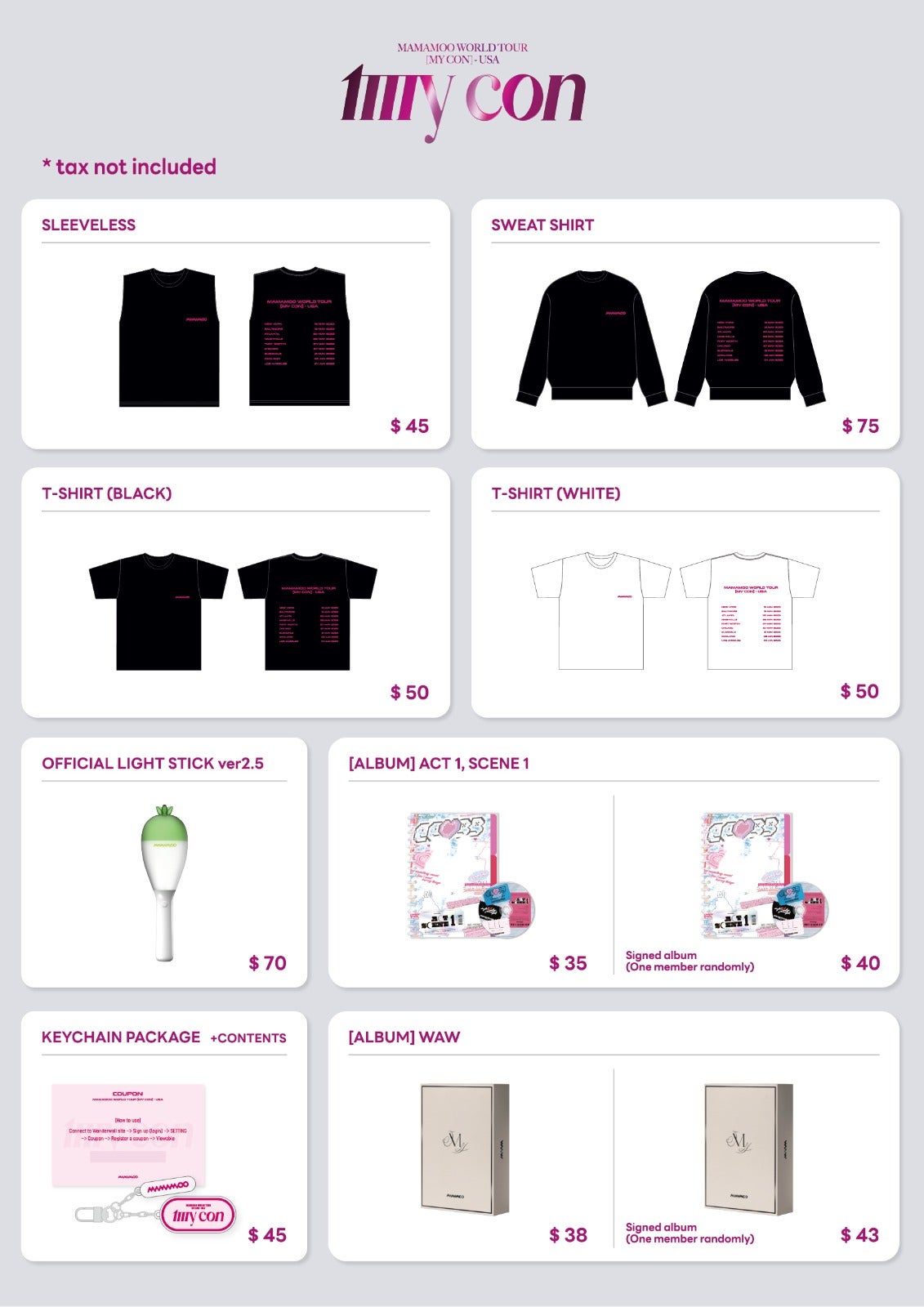 Save up to 40% on parking by reserving your spot in advance with ParkMobile!
When you reserve with ParkMobile, you can:
Guarantee your parking spot.
Sort by price, ease of exit, and distance from State Farm Arena to find the perfect lot.
Save time by knowing exactly where you're parking before you leave home so you can get straight to the concert.
From how to get here, to finding your seat, to getting something to eat and drink, click here to plan your visit to State Farm Arena.

DIRECTIONS & TRANSPORTATION:
State Farm Arena is located in the heart of downtown Atlanta, near the intersection of Marietta Street and Centennial Olympic Park Drive.
Our address is 1 State Farm Drive, Atlanta, GA 30303.
Whether you're driving yourself, catching MARTA, or hopping in an Uber or Lyft, there are plenty of convenient ways to get to State Farm Arena.
For driving directions and to see all transportation and driving options, click here.
≤ 14" x 14" x 6"

State Farm Arena has a strict bag policy in place to ensure safety for all attendees.
Please note that bags larger than 14" x 14" x 6", including briefcases, purses, luggage, and diaper bags, are not allowed in the arena. Additionally, backpacks and hard-sided bags of any kind are prohibited. However, you are welcome to bring in single-compartment drawstring bags and fashion backpacks or purses that are smaller than 14" x 14" x 6".
Thank you for your cooperation in keeping our venue secure.
State Farm Arena is a cashless environment. Card payment will be required at all ticket, food & beverage, and retail locations. No cash payments will be accepted.
Staying at the Omni Hotel?
To access the Omni Hotel's North and South towers, exit through Gate 7 and walk west on Andrew Young International Blvd NW towards Marietta St NW. The Omni Hotel will be on your left.