The Smashing Pumpkins + Jane's Addiction
Spirits on Fire Tour with Special Guest Poppy
Date

Oct

11

, 2022

Event Starts

6:30 PM

Doors Open

5:30 PM

On Sale

On Sale Now
Event Details
THE SMASHING PUMPKINS ANNOUNCE NORTH AMERICAN HEADLINING ARENA TOUR WITH SPECIAL GUESTS
JANE'S ADDICTION, FEATURING A STOP AT STATE FARM ARENA IN ATLANTA ON OCTOBER 11

POPPY TO OPEN in Atlanta and on SELECT DATES
SPIRITS ON FIRE TOUR STARTS OCTOBER 2
The Smashing Pumpkins today announced their North American arena tour with special guests Jane's Addiction. Produced by Live Nation, the 32-date SPIRITS ON FIRE TOUR will commence on October 2 in Dallas, TX, featuring a stop at the award-winning State Farm Arena in Atlanta on October 11, and will conclude on November 19 in Los Angeles, CA at the Hollywood Bowl. Both bands revealed the exciting news live this morning exclusively on SiriusXM's The Howard Stern Show. Pre-sales begin on Thursday, May 12 from 10am local. General on-sale begins Friday, May 13 at 10am local. For tickets and more details, go to SmashingPumpkins.com/tour. For tickets to the show at State Farm Arena, visit Ticketmaster.com.
Tomorrow night, in support of The Smashing Pumpkins tour announcement, the GRAMMY® Award-winning, critically acclaimed band will be performing and talking on CBS' The Late Late Show with James Corden.
Later today, The Smashing Pumpkins will appear at the TCL Chinese Theater in Hollywood for a commemorative ceremony in celebration of their tour announcement. Each band-member will add their handprints in cement, joining a long list of global treasures before them.
When The Smashing Pumpkins first emerged out of Chicago in 1988, the world had never heard a band quite like them. They spun together rock, pop, shoe-gaze, metal, goth, psychedelia, and electronic into a kaleidoscope of saccharine melodies, fuzzy distortion, bombastic orchestration, incendiary fretwork, eloquent songcraft, and unshakable hooks. Upon their formation, their sound was different, iconoclastic, and wholly new—and it still is today. As a result, they've sold over 30 million albums worldwide and collected two GRAMMY® Awards, two MTV VMAs, and an American Music Award. Their catalog is highlighted by the platinum Gish [1991], the quadruple-platinum Siamese Dream [1993], diamond-certified Mellon Collie and the Infinite Sadness [1995], platinum Adore [1998], and gold Machina/The Machines of God [2000]. In 2018, they embarked on one of their most successful tours ever, the Shiny and Oh So Bright Tour, followed by SHINY AND OH SO BRIGHT, VOL. 1 / LP: NO PAST. NO FUTURE. NO SUN. Meanwhile, 2020 saw the release of the band's eleventh full-length and latest double album, CYR. As prolific as ever, The Smashing Pumpkins confirmed they will release more music in 2022 as they resume touring. More details to come.
Enjoy all these awesome benefits when you plan ahead and purchase your parking in advance through ParkMobile.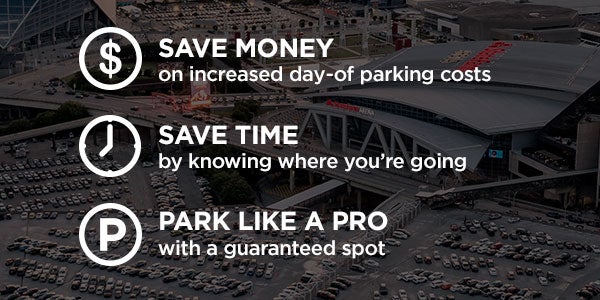 State Farm Arena offers multiple parking options tailored to your needs:
STATE FARM DRIVE: The best parking, just steps from the entrance
DIAMOND DECK: VIP parking with exclusive Player/Artist entrance
SAPPHIRE DECK: Prime location across the street
RUBY LOT: Easy & convenient Arena access



Want to make the most of your time in downtown Atlanta? Choose from several nearby hotels to create the perfect fan experience. Save 10% or more with Members prices.

From how to get here, to finding your seat, to getting something to eat and drink, click here to plan your visit to State Farm Arena.
≤ 14" x 14" x 6"

State Farm Arena has a strict bag policy in place to ensure safety for all attendees.
Please note that bags larger than 14" x 14" x 6", including briefcases, purses, luggage, and diaper bags, are not allowed in the arena. Additionally, backpacks and hard-sided bags of any kind are prohibited. However, you are welcome to bring in single-compartment drawstring bags and fashion backpacks or purses that are smaller than 14" x 14" x 6".
Thank you for your cooperation in keeping our venue secure.
State Farm Arena is a cashless environment. Card payment will be required at all ticket, food & beverage, and retail locations. No cash payments will be accepted.
Staying at the Omni Hotel?
To access the Omni Hotel's North and South towers, exit through Gate 7 and walk west on Andrew Young International Blvd NW towards Marietta St NW. The Omni Hotel will be on your left.
Take your concert experience to the next level with all-inclusive food and beverage, amazing views, A-list amenities, and your own private party zone for you and your crew!