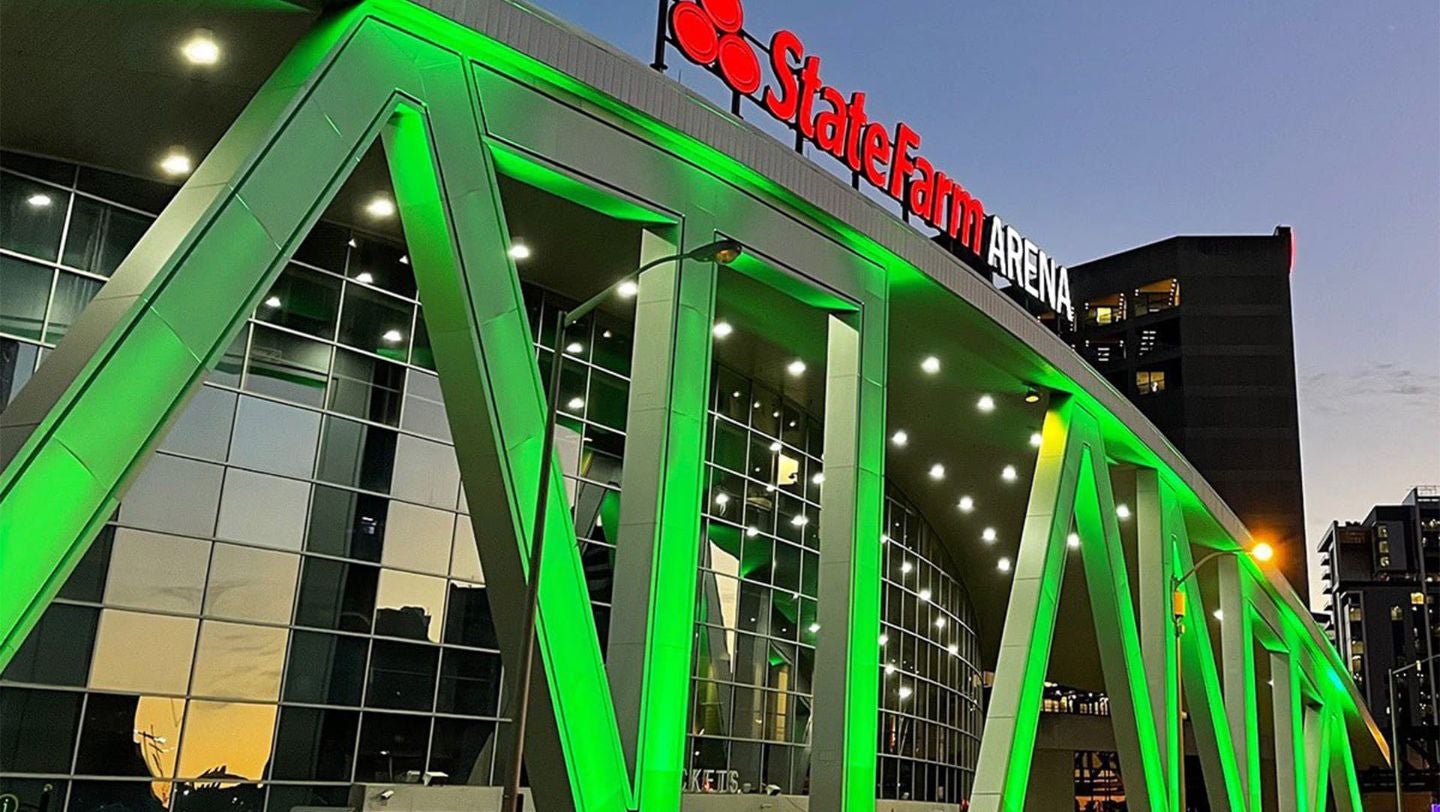 HAWKS AND STATE FARM ARENA ANNOUNCE PLANS TO CELEBRATE EARTH MONTH BY SPOTLIGHTING LEADERSHIP IN ZERO WASTE AND SUSTAINABILITY PRACTICES
Apr

5

, 2023
HAWKS AND STATE FARM ARENA ANNOUNCE PLANS TO CELEBRATE EARTH MONTH BY SPOTLIGHTING LEADERSHIP IN ZERO WASTE AND SUSTAINABILITY PRACTICES
Novelis to Give First 1,000 Fans at Gate 2 Aluminum Cups for Unlimited Re-Use Soft Drinks at Tonight's Game
Hawks and State Farm Arena Debut New Video on Commitment to Sustainable Practices Here
ATLANTA – The Hawks and State Farm Arena, who continue to lead the sports industry by example in sustainability efforts, today announced plans to celebrate Earth Month. The Hawks will spotlight their sustainability efforts as part of the overall game experience during the team's home game tonight against Washington at 7:30 p.m. on Wednesday, April 5. Novelis, the world leader in aluminum recycling and rolling, will be providing the first 1,000 fans in attendance who enter at Gate 2 with free aluminum cups for unlimited re-use soft drinks throughout the game. Earth Month, which takes place during the month of April, is dedicated to celebrating environmental progress, educating each other about stewardship and justice, and advocating for sustainable habits, policies and practices.
At Wednesday's game, the Hawks will light up the venue's iconic ATLANTA letters at the award-winning State Farm Arena in a green hue to celebrate Earth Month as a reminder that State Farm Arena is committed to diverting more than 90 percent of all waste from landfills after each event. The Hawks and State Farm Arena are also set to recognize 10 fans on the court at halftime in attendance through its special activation in partnership with Novelis called Recycle and Win. This activation is a surprise-and-delight engagement with fans who are seen in the act of correctly recycling while attending the venue. In addition, 100 fans will also receive a limited-edition token as part of Recycle and Win. To date, more than 700 fans have been recognized and have received Hawks swag and seat upgrades at concerts as a reward for practicing sustainability.
"Our organization continues to innovate and lead the way when it comes to practicing sustainability," said Hawks and State Farm Arena Head of Sustainability Sofi Armenakian. "As we continue on our forever journey, our impact continues to inspire and empower our future generations, and we are grateful for our amazing fans, whether it is Earth Month or not, who have continued to play a key role in helping us create a monumental impact for our city and beyond. It is important to always remember that actions, no matter how small, can create a collective impact for our planet. We are all part of the solution."
Later this month, the Hawks, State Farm Arena and Novelis will team up for a sustainability-focused community initiative.
"Novelis is proud to close the loop with State Farm Arena," said Suzanne Lindsay-Walker, Vice President of Sustainability for Novelis, Inc. "By increasing recycling awareness among Hawks fans and recycling the in-arena aluminum to create new beverage cans and cups, we are activating our purpose of Shaping a Sustainable World Together."
Currently, the Hawks and State Farm Arena are the only Atlanta sports team participating in Live Thrive's CHaRM Corporate Challenge. Joined by Hawks' global partners such as Novelis, this program challenges companies of any size and their employees to participate by bringing their recycling to the Center for Hard to Recycle Materials (also known as CHaRM), where materials are weighed, logged and tallied for each company.
Last month, Atlanta City Council Member Byron D. Amos honored the Hawks and State Farm Arena with a proclamation ceremony at Atlanta City Hall for their work in sustainability. In April 2022, Green Business Certification Inc., the world's leading sustainability and health certification and credentialing body, announced that State Farm Arena earned TRUE (Total Resource Use and Efficiency) Platinum certification for zero waste. This marked the first time in the world that a sports and entertainment team and venue received an accolade for achieving such a milestone in sustainability.
The Hawks and State Farm Arena continue to lead the way in sustainable practices for sports and live event venues. In October 2022, the Hawks and State Farm Arena joined forces with Oak View Group, Fenway Sports Group, and Jason F. McLennan to form GOAL (Green Operations & Advanced Leadership), which provides venues with a tactical roadmap, tracking tools, resources, and access to operators, vendors, and sponsors all committed to operating more sustainably, more urgently.
To secure tickets for the Hawks' game presented by Novelis on Wednesday, April 5th, visit Hawks.com/tickets.
To watch a new video on how the Hawks and State Farm Arena are focused on being True to Atlanta and committed to sustainable practices that lesson the environmental impact, visit StateFarmArena.com/sustainability.