HAWKS AND STATE FARM ARENA DIVERT MORE THAN TWO MILLION POUNDS OF WASTE IN 2022
Jan

18

, 2023
HAWKS AND STATE FARM ARENA DIVERT MORE THAN TWO MILLION POUNDS OF WASTE IN 2022
The World's First Sports and Entertainment Venue to Be Certified TRUE Platinum for Zero Waste Sets New Milestone in Large Part Thanks to Fans, Concertgoers and Partners for Being Active in Sustainability Journey
ATLANTA – Today, it was announced by the Atlanta Hawks and State Farm Arena that they have successfully diverted more than 2,503,745 pounds of all waste from landfills throughout its 2022 slate of Hawks' basketball games, concerts and ancillary events. As part of this sum, the award-winning downtown Atlanta venue recycled nearly one million pounds of materials (aluminum, cardboard, plastics, glass, etc.). Last April, the award-winning venue became the first sports and entertainment venue to become TRUE Platinum certified for zero waste. Achieving zero waste certification means diverting more than 90 percent of all waste from landfills and continuing to operate in a sustainable manner.
"We are so grateful for our fans, concertgoers and partners who have helped us continue setting a new standard in the sports and live entertainment industry and beyond," said Hawks and State Farm Arena Head of Sustainability Sofi Armenakian. "For us, it has always been about consistency and intent behind the decisions that enable us to operate zero waste, and we are always looking for ways to continue innovating. As we all strive to be part of the solution, we know that together, we can continue diverting more waste from landfills, and we continue to ask fans to join us outside the walls of our venue on this forever journey to operate more sustainably in their daily lives."
State Farm Arena's zero waste operation accomplished the following in 2022:

Recycled nearly one million pounds of materials (998,260 pounds). This primarily included aluminum, plastics, cardboard, glass and more.

Composted 734,775 pounds of food and organic material. Any food that could not be donated was composted.

Composting is the natural process of turning organic matter, such as food and compostable service ware, into a valuable fertilizer used by local farmers.



Reused or donated 610,656 pounds of materials like food, electronics, clothing, crates, pallets and more.

Reduced annual waste by 160,054 pounds by eliminating paper tickets, individual condiment packets, disposable service ware and more.

All material diverted from the landfill in 2022 totaled more than two-and-a-half million pounds.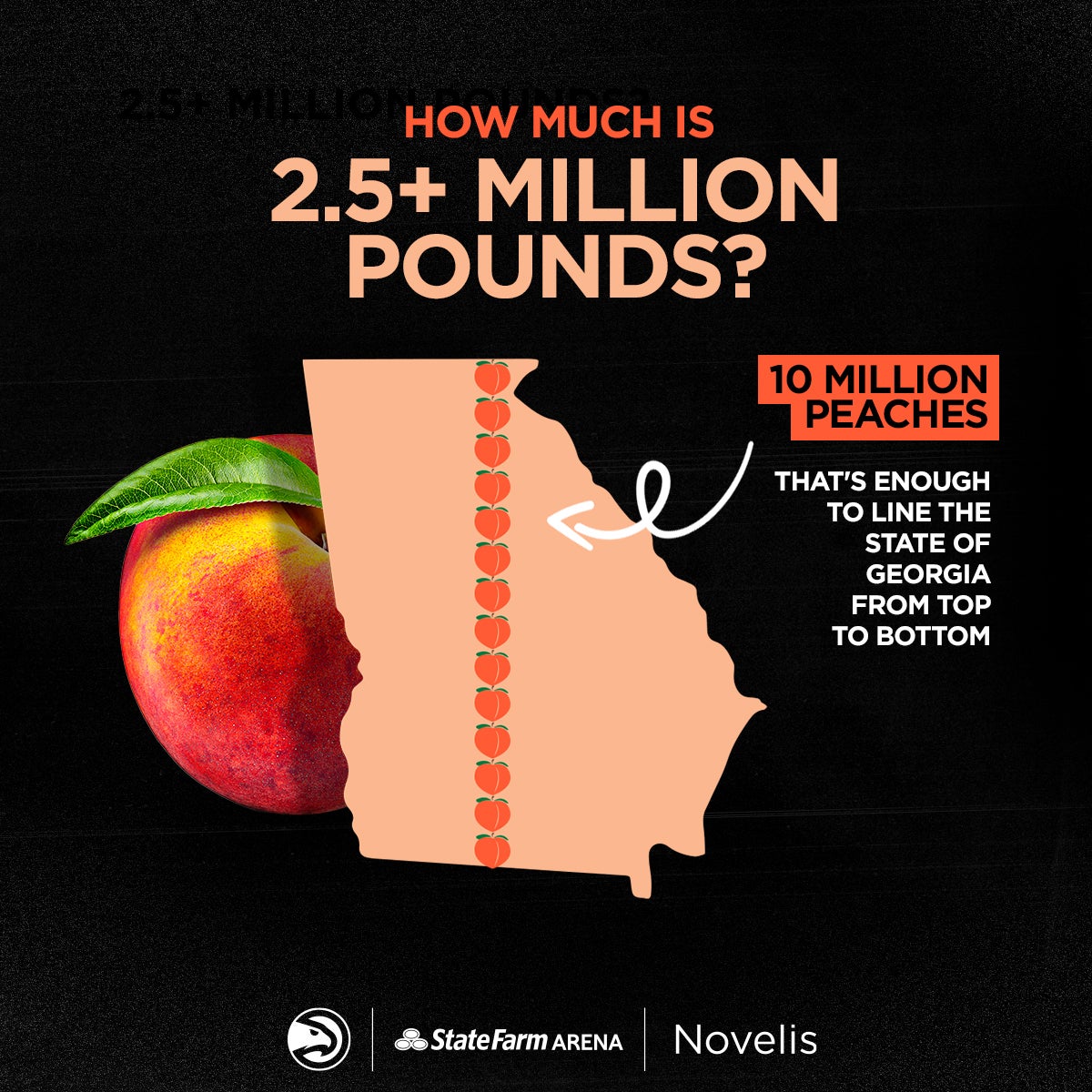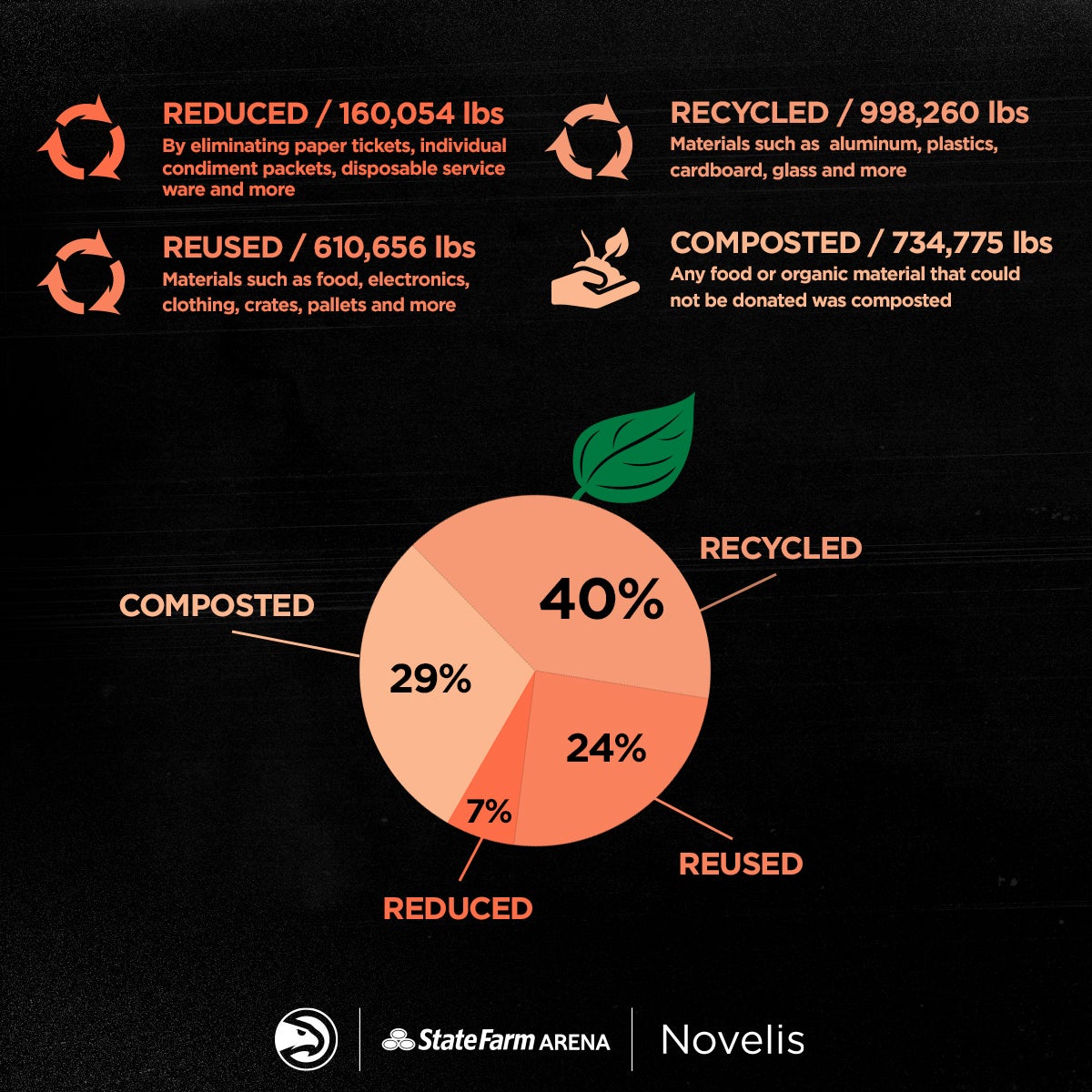 Since the summer of 2021, the Hawks and State Farm Arena have worked closely with Novelis, the world leader in aluminum rolling and recycling to continue encouraging fans to recycle. The partnership has focused on promoting sustainability, responsible recycling and a circular economy. At the end of last year, the Hawks and Novelis unveiled "FULL COURT PRESS", a sculpture made up of nearly 404 lbs. of upcycled aluminum cups and cans in the shape of the primary Hawks logo, located on the Terrace level by the Gate 2 entrance at the award-winning venue.
"Novelis is proud to stand alongside the Hawks and State Farm Arena as they more than doubled their previous achievement of diverting one million pounds of waste from landfills," said Suzanne Lindsay-Walker, Vice President of Sustainability, Novelis. "Aluminum can and should be recycled over and over, back in the hands of Atlanta fans in as little as 60 days, and this partnership is making it easier than ever to recycle at one of the top venues in the country."
The Hawks and State Farm Arena continue to lead the way in sustainable practices for sports and live event venues. In October 2022, the Hawks and State Farm Arena joined forces with Oak View Group, Fenway Sports Group, and Jason F. McLennan to accelerate the sports and entertainment industry's response to the climate crisis. GOAL, which stands for Green Operations & Advanced Leadership, will provide venues with a tactical roadmap, easy-to-use tracking tools, a library of resources, and access to like-minded operators, vendors, and sponsors all committed to operating more sustainably, more urgently. In April 2022, Green Business Certification Inc., the world's leading sustainability and health certification and credentialing body, announced that State Farm Arena earned TRUE (Total Resource Use and Efficiency) Platinum certification.
To learn more about how the Atlanta Hawks and State Farm Arena are leading the way in sustainability efforts across the sports and entertainment industry, visit StateFarmArena.com/sustainability.