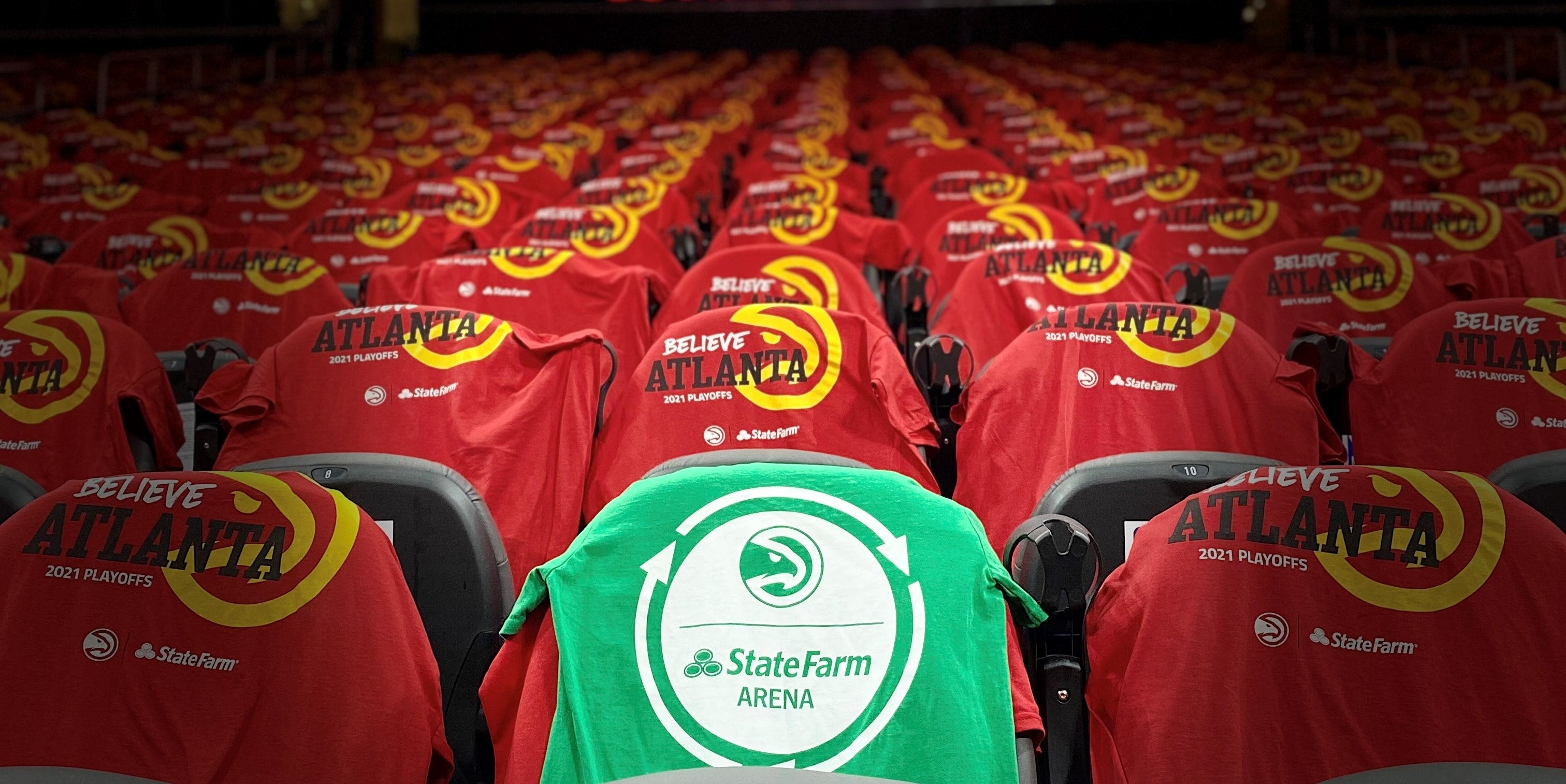 HAWKS' PLAYOFF GAME ON SUNDAY, MAY 30 AT STATE FARM ARENA RECOGNIZED AS FIRST TRUE CERTIFIED SPORTING EVENT IN THE WORLD
June

14

, 2021
HAWKS' PLAYOFF GAME ON SUNDAY, MAY 30 AT STATE FARM ARENA RECOGNIZED AS FIRST TRUE CERTIFIED SPORTING EVENT IN THE WORLD
State Farm Arena Sets New Industry Standard for Leadership in Zero Waste with TRUE certification from Green Business Certification Inc.
ATLANTA – Today, Green Business Certification Inc. (GBCI), the world's leading sustainability and health certification and credentialing body, announced that Game 4 of the Atlanta Hawks' first-round playoff series against the New York Knicks earned TRUE (Total Resource Use and Efficiency) certification. This delegation marks the first time a sporting event in the world has received TRUE for events. The game, which was sold out with 16,458 fans in attendance, took place on Sunday, May 30.
In order to become TRUE certified, an event must meet requirements from GBCI. These requirements include having a zero waste policy in place, having achieved an average of 90 percent or greater overall diversion from landfill, incineration (waste-to-energy) and the environment for solid, non-hazardous wastes. The event must reduce, reuse, recycle, compost and/or recover for productive use in nature or the economy, and meet all federal, state/provincial, and local solid waste and recycling laws and regulations. In addition, the project complies with all air, water and land discharge permits required for collection, handling or processing of materials and meets or exceeds through data documenting of waste diversion efforts and measurements.
"As we continue our journey in making State Farm Arena a zero-waste venue, we are grateful for our staff and fans who all worked together to earn this certification from GBCI," said Sofi Armenakian, Director of Sustainability and Operations for the Hawks and State Farm Arena. "We recognize how important it is for sports to create change and know this is just another way how a sports venue can contribute positively and act sustainably in their community."
In this endeavor, the Hawks were assisted by various organizations such as the Center for Hard to Recycle Materials (CHaRM), which aids in creating various recycling solutions for the city of Atlanta. CompostNow who provides commercial composting solutions- CompostNow enables us to compost all of our compostable service ware, cutlery and packaging. In addition, the venue activated 15 volunteers, teachers from Jonesboro Middle School, who joined for the event as zero waste volunteers. In their roles, they aided guests at the venue in the process of properly sorting to reduce contamination. Additionally, Levy Restaurants, the official food and beverage partner of the Hawks and State Farm Arena, helped in the supply chain process. Pritchard Sports & Entertainment, the team's official housekeeping partner, also assisted operationally with the collection and sorting of all materials.
"We all want the world to be a cleaner and healthier place for future generations, and we can't accomplish this without bringing a critical focus to waste reduction and elimination efforts. TRUE seeks to instill a more circular economy and enable businesses and organizations to address these issues head on by defining, pursuing and achieving zero waste goals for their facilities," said Mahesh Ramanujam, President and CEO, USGBC and GBCI. "Reducing the negative impacts of waste on people and the environment will require organizations of all kinds to step up and demonstrate leadership by prioritizing policies, operations and actions that dramatically reduce waste and limit resource extraction and use upstream. The Hawks and State Farm Arena's dedication to pursuing TRUE for Events certification is truly moving us closer to becoming a zero-waste community that's healthier for us all."
In February 2021, Hawks and State Farm Arena successfully diverted 97 percent of fan-generated waste during the 2021 NBA All-Star Game with the help of Rubicon, a software platform that provides waste, recycling and smart city solutions to businesses and governments worldwide.
In June 2019, the U.S. Green Building Council (USGBC) announced State Farm Arena, has received the LEED Gold certification. At the time, USGBC and GBCI President and CEO Mahesh Ramanujam presented Hawks and State Farm Arena CEO Steve Koonin with the designation plaque during the Greenbuild Atlanta Cultivation event at the venue.
To learn more about State Farm Arena's Sustainability efforts, visit StateFarmArena.com/Sustainability. To purchase tickets for an upcoming event at State Farm Arena, visit StateFarmArena.com.
# TrueToAtlanta #
ABOUT THE ATLANTA HAWKS
Committed to entertaining and uniting the city of Atlanta since 1968, the Atlanta Hawks & State Farm Arena, under the leadership of Principal Owners Tony Ressler and Jami Gertz, continue to build bridges through basketball by following its True to Atlanta mantra. On the court, the Hawks' exciting young core is led by All-Star point guard Trae Young as the organization received the NBA's top ranking in overall in-game experience for the last two seasons. Off the court, the Hawks organization focuses on positively impacting the lives of Atlantans through providing access to youth basketball, fighting food insecurity, and the recent transformation of State Farm Arena into Georgia's largest-ever voting precinct for the 2020 elections. The Hawks family also includes the College Park Skyhawks (NBA G League) and Hawks Talon Gaming Club (NBA 2K League). Atlanta Hawks Membership, which includes your seat for every home game for the 2020-21 regular season, is on sale now at www.hawks.com/membership or by calling 866-715-1500. For more information on the Hawks, log on to www.hawks.com or follow us on social media @ATLHawks.
ABOUT STATE FARM ARENA
Home to the NBA's Atlanta Hawks Basketball Club, the award-winning State Farm Arena opened its doors in October 2018 following the 2nd largest renovation in NBA history. Inspired by the fans, State Farm Arena is a next-generation venue focused on experience, service and entertainment. With the NBA's third-largest center-hung scoreboard and an immersive video experience, fan-friendly food pricing and premium restaurant options, Topgolf Swing Suites and celebrity-inspired spaces accessible to every fan, the downtown Atlanta arena stakes its claim as the city's best sports and live entertainment venue. Named Pollstar's 2020 Best New Concert Venue, State Farm Arena consistently ranks among the top 10 concert and event venues in the world by and hosts nearly 200 events and nearly 2 million guests annually. For more information on State Farm Arena, log on to www.statefarmarena.com today or follow us on Twitter @StateFarmArena.
ABOUT GREEN BUSINESS CERTIFICATION INC. (GBCI)
GBCI is the premier organization independently recognizing excellence in green business industry performance and practice globally. Established in 2008, GBCI exclusively administers project certifications and professional credentials and certificates within the framework of the U.S. Green Building Council's Leadership in Energy and Environmental Design (LEED) green building rating systems, as well as the Sustainable SITES Initiative (SITES), TRUE Zero Waste Certification, Parksmart, the PEER standard for power systems, the WELL building standard, EDGE (Excellence in Design for Greater Efficiencies), Investor Confidence Project (ICP) for energy efficiency retrofits and the GRESB benchmark, which is used by institutional investors to improve the sustainability performance of the global property sector. www.gbci.org.
# # #