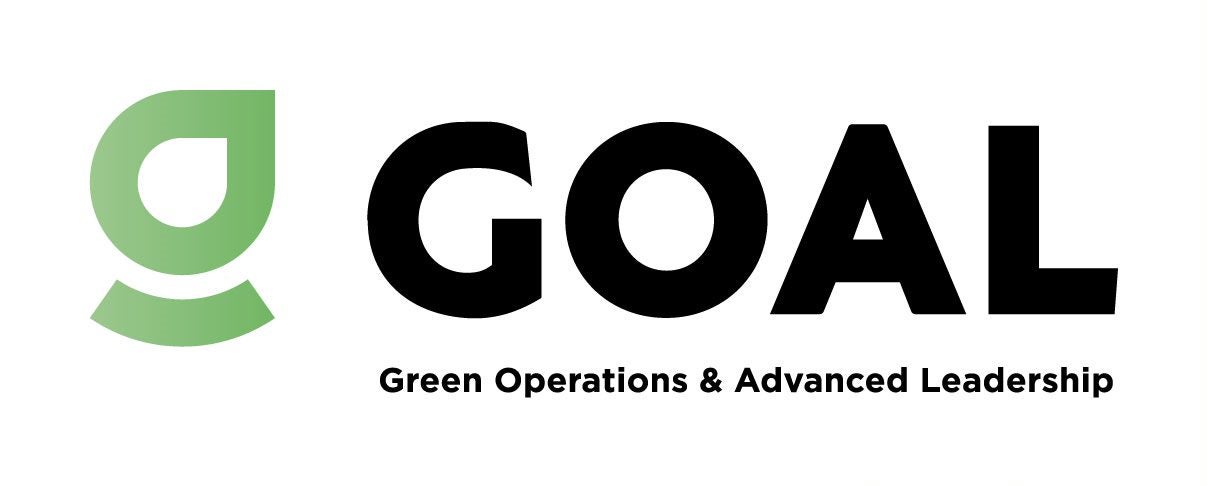 Oak View Group, Atlanta Hawks & State Farm Arena, Fenway Sports Group, and Jason F. McLennan Team Up to Launch GOAL – a Comprehensive Sustainability Platform for Arenas, Stadiums, Convention Centers, & Other Venues of Public Assembly
Oct

3

, 2022
Oak View Group, Atlanta Hawks & State Farm Arena, Fenway Sports Group, and Jason F. McLennan Team Up to Launch GOAL – a Comprehensive Sustainability Platform for Arenas, Stadiums, Convention Centers, & Other Venues of Public Assembly
Sports Sustainability Expert Kristen Fulmer to Lead GOAL in New Role as OVG360's Sustainability Director
GOAL Will Provide a Tactical Roadmap, Tools, Standards, Case Studies, Collaboration and High-Touch Support Necessary to Accelerate the Sustainability Journey of Event Spaces of Any Age, Size or Function

PHILADELPHIA (October 3, 2022) – Oak View Group, the Atlanta Hawks & State Farm Arena, Fenway Sports Group, and Jason F. McLennan have joined forces to accelerate the sports and entertainment industry's response to the climate crisis. GOAL, which stands for Green Operations & Advanced Leadership, will provide venues with a tactical roadmap, easy-to-use tracking tools, a library of resources, and access to like-minded operators, vendors, and sponsors all committed to operating more sustainably, more urgently.

Inspired by the industry-leading work at OVG owned-and-operated Climate Pledge Arena, the home of the NHL's Seattle Kraken and WNBA's Seattle Storm, and on track to be the world's first, and only, Carbon Zero Certified arena, the GOAL membership portal will be powered by customized software developed in collaboration with Amazon Web Services (AWS). Member venues will have the opportunity to track their performance against scientifically backed standards in environmental and social categories such as energy and water use, greenhouse gas emissions, waste management, indoor air quality, and health and wellbeing.

The GOAL Standard will also include opportunities to build a customized roadmap toward venue-specific values and locally relevant needs, ultimately leading to validated recognition of continuous improvement.

Kristen Fulmer, the founder of front-office sustainability consultancy Recipric and recently recognized by Sports Business Journal as "an executive to know in sports sustainability," will lead GOAL as OVG360's new Sustainability Director.

"By focusing our mission on operational sustainability, GOAL has the unique opportunity to redefine the priorities within our industry, which is up against intersecting climate and social crises," Fulmer said. "We want to work with leading, like-minded venues to determine the most feasible, yet ambitious sustainability solutions. I am committed to prove that any venue can integrate win-win sustainability solutions that reduce the operating costs of the venue while avoiding negative environmental impacts and increasing positive social impacts."

The partnership with State Farm Arena, the first sports and entertainment venue in the world to earn the TRUE zero-waste certification, was a natural fit.

"Sustainability is never a message of 'we did it,'" Steve Koonin, Chief Executive Officer of the Atlanta Hawks and State Farm Arena, said. "Environmental and social sustainability is a lifelong commitment, and we're just getting started. With our new partners at Fenway Sports Group and Oak View Group, we can now share our journey with other like-minded venues just beginning their journeys. We can all certainly make progress as individual venues, but we are stronger as an industry if we work together to do better for a sustainable future."

As a member of GOAL, a venue will be able to track its progress month-to-month, year-to-year against a set of scientifically proven standards. It will also be able to track against comparable venues – looking at factors such as geography, venue type and size, tenants, and the age of the building.

"Preservation and protection have been FSG's approach to safeguarding two of the sports world's most historic venues for the next generation of fans," Fenway Sports Group Chairman Tom Werner said. "Sustainability has been central to those efforts, and as standards and technology evolve, so must our practices. We recognize this ongoing journey requires constant attention and in joining this ambitious GOAL partnership, we will help, and learn from, venues across the globe as we all navigate the intersection of sports, entertainment, and sustainability."

Chris Granger, President of OVG360, said: "My hope is that GOAL becomes the sports and entertainment industry's internal conscience as it relates to creating a more sustainable future. We're seeing countless venues, leagues, teams, municipalities, and leaders – often driven by the demands of their fans, guests, clients and communities – who want to develop a more sustainable strategy but don't know where to begin. We hope GOAL will provide that roadmap and be that guide for their sustainability journey. Fenway Sports Group and State Farm Arena are the perfect partners to champion a sustainable future industry-wide, and we are delighted to have Kristen onboard to pinpoint the intersectionality of sustainability with all aspects of a venue's operations – from F&B to parking to partnerships."

Jason F. McLennan, Founder of McLennan Design and Chief Sustainability Officer for Perkins & Will, will sit on GOAL's board of directors as an equity-holder and guide the creation of content and standards. McLennan is widely considered one of the world's most influential individuals in architecture and the green building movement today. He is also the creator of the Living Building Challenge – the most stringent and progressive green building program in existence, as well as a primary author of the WELL Building Standard.

"Oak View Group, Fenway Sports Group, and the Atlanta Hawks & State Farm Arena represent the few in the industry to practice what they preach as far as sustainable solutions," McLennan said. "There is a foundational lack of curated information, guidance, roadmaps and tools for the industry – specifically venue operators – to manage major civic venues in environmentally and socially sustainable ways. GOAL is going to fill that void in a practical yet aspirational way."
------

About GOAL
GOAL, which stands for Green Operations & Advanced Leadership, is a sustainability program for arenas, stadiums, convention centers, and other types of public assembly venues in the sports and entertainment industry. Members of GOAL will have access to a digital portal that defines a broad set of sustainability standards specifically designed for venues, a tactical roadmap for achieving those standards, and a customized tracking tool. The online platform includes a library of resources and provides a forum to collaborate with like-minded operators, vendors, and sponsors who are committed to operating more sustainably. The GOAL membership portal is powered by software developed in collaboration with Amazon Web Services (AWS) and modeled after the industry-leading work at the Oak View Group owned-and-operated Climate Pledge Arena. Venues can regularly track their performance against scientifically backed standards in ESG categories – such as energy and water use, greenhouse gas emissions, waste management, indoor air quality, and health and wellbeing – as well as compare to similarly situated venues and be recognized for their progress. The Founding Partners of GOAL are Oak View Group, the Atlanta Hawks & State Farm Arena, Fenway Sports Group, and green building trailblazer Jason F. McLennan, founder of McLennan Design. For more information, visit www.GOALstandard.com or contact info@GOALstandard.com.

About Oak View Group (OVG) 
Oak View Group (OVG) is a global sports and entertainment company founded by Tim Leiweke and Irving Azoff in 2015. OVG is focused on being a positive disruption to business as usual in the sports, live entertainment, and hospitality industries and currently has eight divisions across four global offices (Los Angeles, New York, London, and Philadelphia). OVG oversees the operations of Climate Pledge Arena at Seattle Center, UBS Arena in Belmont Park, NY, and Moody Center in Austin, TX as well as arena development projects for Acrisure Arena in Palm Springs, CA; Co-op Live in Manchester, UK; and projects for Arena São Paulo in São Paulo, BZ; Baltimore Arena in Baltimore, MD; FirstOntario Centre Arena in Hamilton, ON; a New Arena and entertainment district in Las Vegas, NV; and a New Arena in Cardiff, Wales. More information at OakViewGroup.com, and follow OVG on Facebook, Instagram, Twitter, and LinkedIn.

About Fenway Sports Group
Fenway Sports Group (FSG) is a global sports, marketing, media, entertainment, and real estate company anchored by three iconic clubs, the Boston Red Sox, Liverpool Football Club (LFC), and the Pittsburgh Penguins. FSG's portfolio includes two of the world's most historic venues, Fenway Park and Anfield Stadium, NASCAR's RFK Racing, NESN, sports marketing and consulting firm Fenway Sports Management (FSM), and Fenway Sports Group Real Estate (FSGRE) that oversees the assets, acquisitions, and development of FSG properties. For more information, visit www.fenwaysportsgroup.com.

About Atlanta Hawks & State Farm Arena
Committed to entertaining and uniting the city of Atlanta since 1968, the Atlanta Hawks & State Farm Arena, under the leadership of Principal Owners Tony Ressler and Jami Gertz, continue to build bridges through basketball by following its True to Atlanta mantra. On the court, the Hawks' exciting young core is led by All-Star point guard Trae Young as the organization received the NBA's top ranking in overall in-game experience for the last two seasons. Off the court, the Hawks organization focuses on positively impacting the lives of Atlantans through providing access to youth basketball, fighting food insecurity, and the recent transformation of State Farm Arena into Georgia's largest-ever voting precinct for the 2020 elections. The Hawks family also includes the College Park Skyhawks (NBA G League) and Hawks Talon Gaming Club (NBA 2K League). Atlanta Hawks Membership, which includes your seat for every home game, is on sale now at www.hawks.com/membership or by calling 866-715-1500. For more information on the Hawks, log on to www.hawks.com or follow us on social media @ATLHawks.

About Jason F. McLennan
Considered one of the world's most influential individuals in the field of architecture and green building movement today, Jason is a highly sought out designer, consultant and thought-leader around the planet. He is the recipient of the prestigious Buckminster Fuller Prize (the planet's top prize for socially responsible design). He has been called the 'Steve Jobs' of the green building industry, a "World Changer" by GreenBiz magazine and has been selected as the Award of Excellence winner for Engineering News Record – one of the only individuals in the architecture profession to have won the award in its 52-year history. McLennan is the creator of the Living Building Challenge – the most stringent and progressive green building program in existence, as well as a primary author of the WELL Building Standard, which is sweeping the globe. He is the author of seven books on Sustainability and Design – used by thousands of practitioners each year, including the Philosophy of Sustainable Design, which is considered the 'bible' for green building' – and is both an Ashoka Fellow and Senior Fellow of the Design Future's Council. He has been selected by Yes! Magazine as one of '15 people shaping the world' and works closely with world leaders, Fortune 500 companies, leading NGO's, major universities, celebrities and influential development companies –all in the pursuit of a world that is socially just, culturally rich and ecologically restorative. He is the founder, former CEO, and immediate past chair on the board of directors for International Living Future Institute and is the CEO of McLennan Design – his own architectural and planning practice designing some of the world's most advanced green buildings. McLennan's work has been published in dozens of journals, magazines, and newspapers around the world.